Since just about everyone carries a cell phone with them whenever they leave the house, most modern Volkswagen vehicles are built with the technology that allows you to play music, podcasts, audiobooks, or navigation audio while you drive. Models and model years vary, but the 2020 Volkswagen Tiguan makes for a great example. Continue reading the rest of this entry to learn how you can connect your phone to your 2020 Volkswagen Tiguan.
Does the 2020 Volkswagen Tiguan have Android Auto™ or Apple CarPlay®?
The 2020 Volkswagen Tiguan is decked out with all kinds of technology, including the ability to connect either an Android phone or an iPhone over USB. Doing this lets you control many of your apps, make calls, respond to messages, and even use your phone's navigation through the infotainment in the dashboard of the Tiguan.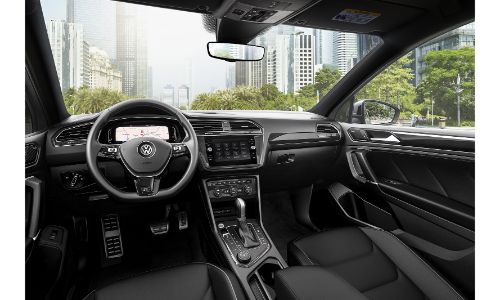 How Do I Use Android Auto™ or Apple CarPlay® in the 2020 Volkswagen Tiguan?
Connecting your phone involves having a charging cable, and a compatible Android phone or iPhone. Older model phones may not be compatible, but most phones made in the last five years should have no issues connecting. Locate the main USB port in your 2020 Volkswagen Tiguan and plug your charger cable into it. The other end of the cable needs to plug into your phone. As long as your phone is on, it should automatically start to display some instructions. Follow the instructions on the screen, and you should be ready to go. You may also need to find an option on your vehicle's infotainment screen to enter mobile phone mode.
---
What Kind of Engine & Performance Does the 2020 Volkswagen Tiguan Have?
---
Can I Connect My Phone Without Using Android Auto™ or Apple CarPlay®?
To connect your phone without using USB, your model needs to be equipped with an auxiliary audio port, or Bluetooth®. To connect your phone over Bluetooth®, you need a phone with Bluetooth® and turn it on. Make your phone discoverable by other devices, and navigate to the screen on your infotainment screen that displays Bluetooth® options. Select your phone to connect the two together. If your vehicle does not have Bluetooth®, use an auxiliary cable to connect your phone to your car through the headphone jack.